NAPA AUTOCARE CENTERS
AUTO REPAIR SHOPS IN ALBUQUERQUE
LEARN MORE ABOUT THE NAPA AUTOCARE CENTER DIFFERENCE >>
---
Who Cares? We Care! NAPA AutoCare Centers. Auto Repair Everywhere. Locally Owned Shops with a Nationwide NAPA AutoCare Peace Of Mind Warranty.
---

Proudly Supporting
---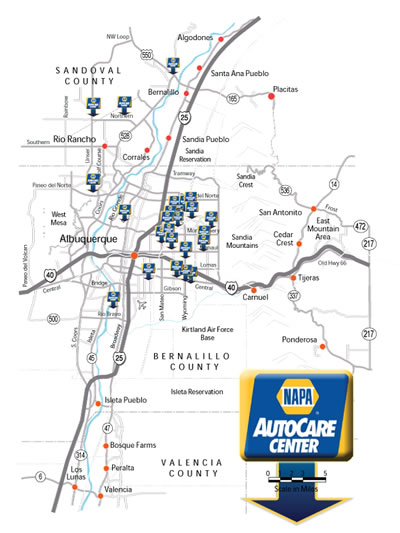 Welcome to the NAPA AutoCare Centers of New Mexico – Serving the Auto Repair and Car Service needs of the Albuquerque Metro and the greater state of New Mexico.
The New Mexico NAPA AutoCare® Centers are made up of the most established and reputable mechanical, collision and truck centers in the state of New Mexico. Every auto repair shop in our group is vetted, trained and certified by various trade associations and offer excellent car service. We participate in community support events and drives on a regular basis. We are your neighborhood AutoCare® shop who cares about your neighborhood. If you are looking for Albuquerque car repair, you found the right website. Be it paint and body or auto repair and maintenance you can find a qualified mechanic in your neighborhood >>
Auto Repair – NAPA AutoCare Centers
Auto Repair can seem like tricky business. Trying to find a qualified mechanic and auto repair shops in Albuquerque can be overwhelming. We are here to make finding the best mechanics and collision repair specialists in Albuquerque and throughout New Mexico a lot easier.
At NAPA AutoCare Centers, we strive for automotive repair excellence, and becoming a NAPA AutoCare Center is not just a matter of signing up. Before an automotive repair center or collision shop can carry the title of NAPA AutoCare Center, they must meet a series of standards and criteria, that includes training, certifications and ethical business practices. That way, when you see the NAPA brand associated with your neighborhood auto repair facility, you know it is a shop you can trust.
ROUGH RIDE? MAYBE IT'S TIME FOR NEW SHOCKS OR STRUTS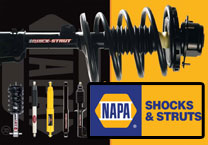 Your shocks and struts, not only help make your ride smoother, they also increase your braking power by controlling forward momentum. Your vehicle typically needs new shocks and struts every 50,000 miles. If your shocks and struts need replacing, visit your neighborhood NAPA Mechanic at one of our top respected Albuquerque Automobile Repair Shops and check your electrical systems today. You'll get Quality NAPA products and a 24 month / 24,000 mile Nationwide Peace of Mind Warranty that is available when you use one of our AutoCare Centers.
2017 NAPA AutoCare support of Children's Miracle Network
---