This years ASE-Napa 2017 Technician of the year for the state of NM:
Jim Maddox – Jim's Automotive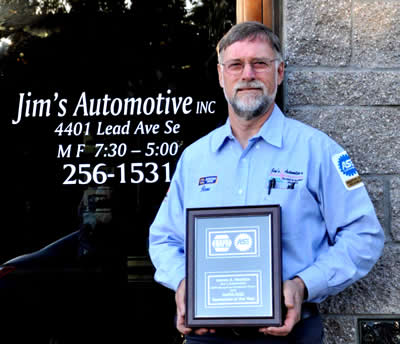 ASE-Napa 2012-2017 Technician of the year for New Mexico
Albuquerque New Mexico October 15, 2011 – Napa Auto Parts NM recently honored Jim Maddox, owner of Jim's Automotive Inc., as the "ASE/NAPA Albuquerque Distribution Center 2012 Technician of the Year". He was selected from the NAPA Auto Care Centers in the New Mexico, southern Colorado and west Texas region.
The Technician of the Year award is presented annually by NAPA Auto Parts and ASE (National Institute for Automotive Service Excellence) to an individual in the automotive repair industry who meets detailed requirements. When Mr. Maddox heard of his nomination for the award, his wife Sherry remembers him saying "I am impressed that I am being considered; it is very flattering. I am honored and deeply humbled".
Mr. Maddox was selected for demonstrating superior technical skills, a commitment to his business and employees, business practices and customer service. Jim actively supports his community while demonstrating outstanding service and dedication to the industry as a whole. He holds many certifications, such as ASE Master Technician and continues his education when ever possible through NAPA and other training programs.
NAPA sales representative JD Morris said, "He has the utmost integrity in the industry and is a person that other shop owners and technicians turn to for guidance and advice. It is his kind of Professional repair shop we would like to have more of. "Jim's dedication to our industry is endless as well as educating the Motoring public".
NAPA General Mgr DC Marc Tsutsui said to Jim, "As this years finalist you represent the best of the best and you have every reason to be proud of yourself, your performance and your career accomplishments."
            Robert Ramirez NAPA's Albuquerque DC Manager added,
"It is a great pleasure to work and do business with a professional shop like yours with an owner like you."
Pictured in the photo presenting the award from left to right is:
(1)JD Morris – NAPA Wholesale rep., Marc Tsutsui – NAPA General Mgr DC. James (Jim) Maddox, and Robert Ramirez – NAPA DC Manager.
(2)JD Morris – NAPA Wholesale rep., Robert Ramirez – NAPA DC Manager. James (Jim) Maddox, and Marc Tsutsui – NAPA General Mgr DC.
About Jim Maddox:
Jim has been an auto mechanic for more than 40 years, running his own business for most of that time. He owns Jim's Automotive Inc, located at 4401 Lead Ave SE, Albuquerque, NM , 87108. Los Lunas NM High School Auto Mechanics program started Jim's automotive career while he was growing up in the rural farming community; where repairing things was a necessity.
Jim holds many certifications in the automotive and management fields and feels certifications are important. He designed and constructed his automotive repair facility. He enjoys tinkering and is always busy with projects. His hobbies and interests are widespread, from Aerospace and cooking to fine woodworking with many subjects in between. He enjoys gardening, and has a family background of dirt farmers and a blood line to the famed Ethan Allen.
He is interested in electric vehicles, solar power, fuel cells and alternative energy sources. With hybrid cars in the market place Jim is preparing his shop for what the future will bring. Performing research, hosting and attending advanced hybrid training, and adding yet another certification are keeping him in front of his peers. Jim and his wife Sherry purchased a new Toyota Prius and he is positioning himself to be a leader in the local area in hybrid repairs and plug in conversions. Jim purchased his first solar panel and inverter to further his learning process while becoming greener with a plug-in conversion for his wife's Prius coming soon.
Jim is the ASA president (Automotive Service Association of Central NM) and V.P. for the NAPA AutoCare group of NM and very active in both associations.
Retirement is not in his immediate future; in the mean time he will be changing with the times and continue to excel in the automotive field.